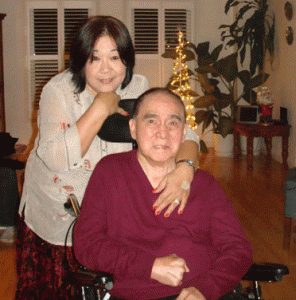 Ruben Cusipag (July 12, 1938 – July 9, 2013)
Filipinos are today considered the fourth largest minority group in Canada, particularly in the Greater Toronto Area. The need to maintain community communication increases as their number expands numerically, economically, socially, and politically.
The rapid growth of the community in the early 1970s brought a need to bring the Filipinos together and strengthen their connectedness through the Filipino community newspapers.
Thanks to early Filipino journalist immigrants who dedicated themselves to keeping people abreast of numerous topics in the Philippines and Canada, from labor issues to daily gossip to politics to international issues of concern to the local Filipino population.
The central figure in Filipino-Canadian community journalism is Ruben Cusipag, a veteran journalist who was detained as a political prisoner during in the early days of Martial Law in the Philippines in 1972. Unable to bear the repressive atmosphere, Cusipag immigrated to Canada by late 1974.
In 1976, he was a co-founder of Atin Ito, one of the first Filipino-Canadian newspapers where he wrote political editorials condemning the situation in the Philippines.
He put up his own publication, Balita, in 1978. Cusipag's views evolved over time, from assertive politics to a milder apolitical tone, and Balita lived up to its promise to provide "frank, sincere, and honest-to-goodness discussion of the Philippine problem."
He made a distinct effort for an equitable and balanced perspective on the issues. Balita played a key role in exposing abuses of the Marcos regime back home. Then it concentrated on reporting local news, focusing on issues that concerned Filipino-Canadians.
Among Ruben Cusipag's countless awards for exemplary work as a journalist is "Most Outstanding Filipino-Canadian."
By then Balita had become the vehicle of transplanted journalists and writers from the home country, as well as training ground and start for most younger journalists, editors and others in the now numerous Filipino community publications in Toronto, Canada.
Meanwhile, Cusipag has also written articles for the Canadian mainstream media. He is often sought out by Canadian dailies, radio and television when there's a major newsbreak in the Filipino Canadian Community or in the Philippines.
In 1993, he wrote the book "Portrait of Filipino Canadians in Ontario (1960-1990)". It was his homage to the hardworking compatriots he dealt with during his early years as an immigrant in Canada.
Unfortunately, Cusipag had a car accident in 1996, and had to stay in the hospital for therapy while his wife Tess took over supervision of the newspaper.
"Through these community newspapers, Filipino-Canadians strengthened their community, explored identity, and organized to overcome obstacles," says Tess Cusipag. A teacher by profession, she had no choice but to continue her husband's mission, even resigning as executive assistant for a Canadian firm.
"I love my husband and I love serving to the Filipino community that is why I am struggling to continue what has been started," she said. Spreading the news, fulfillment. Community newspapers will always be a vehicle to bring Filipinos together: "We will always be here to influence change for the benefit of our community and for the generations to come." (Inquirer News Service)