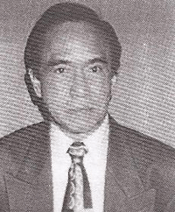 As far as newsman Ruben J. Cusipag is concerned, there's no life after a journalistic career. He spent the best 12 years of his life as a reporter in Manila. He went through the entire gauntlet of the news beats; from the Presidential Palace to the police headquarters. He also wrote a weekly column for the Manila Evening News which was shut down after the declaration of Martial Law in the Philippines in 1972. He was briefly detained as a political prisoner at the beginning of the military rule.
Unable to bear the repressive atmosphere of Ferdinand Marcos' dictatorship, he immigrated to Canada in late 1974. He was editor of the Newfoundland Signal, a weekly for Newfoundlanders in Ontario which ceased publication later on. He was executive director of the Canada Asia Working Group, a church-funded human rights desk for Asia. A "committed" journalist, he was among the hard-core leaders of the Filipino Canadian anti-Marcos dictatorship movement.
Cusipag has written several articles for the Canadian mainstream media. Often, he is sought out by Canadian dailies, radio and television when there's a major newsbreak in the Filipino Canadian Community or in the Philippines. In 1993, he wrote the book "Portrait of Filipino Canadians in Ontario (1960-1990). It was his homage to the hardworking compatriots he dealt with during his early years as an immigrant in Canada.
He founded Balita in 1978, the Toronto based Filipino newspaper, which champions worthy causes. Balita is now the byword in community news publishing twice a month consistently with 15,000 copies per issue evenly distributed in Toronto, the Greater Toronto Area and as far as Hamilton, Ontario. The writers represent the cross section of, and are prominent leaders in the community, including established correspondents in the Philippines, for balanced and interpretative reporting and widespread coverage of local and Philippine events.
Balita has become the vehicle of transplanted journalists and writers from the home country, as well as training ground and focal start of most younger journalists, editors and others in the now numerous publications in the Filipino Community in Toronto, Canada.
The regular subscribers come from all over Ontario, other countries and the Philippines.